 Bethany's Cancer Fundraiser
I want to see my six-year-old daughter grow up.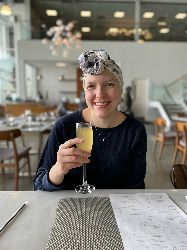 Please support research. You could very literally save my life.
After three years of trying to conceive a second child, I had surgery in September 2020 to remove what we thought was a persistent ovarian cyst. Pathology revealed it wasn't a cyst — it was a borderline tumor. I later learned that these tumors are often a precursor to ovarian cancer.

I had another surgery November 30, where my oncologist noted major spread since September. She removed all of my reproductive organs, my omentum and several lymph nodes. I was diagnosed with stage 3 low-grade serous carcinoma, a rare type of ovarian cancer.
I've since learned that ovarian cancer is hard to detect early because the symptoms are so vague and most often caused by other things than ovarian cancer. The main symptoms are bloating, pelvic/abdominal pain, feeling full quickly and changes to urinary and bowel functions. There is no screening test for ovarian cancer, and it's not detectable by a Pap smear.
Needless to say, this has been an incredibly sad and scary time. I will never again carry a child and I'm going through menopause at age 34. I don't even have time to grieve these losses because my total focus now is on fighting to be here for my family.
I want to see my six-year-old daughter grow up. I want to be there to cry with her during her first heartbreak. I want to celebrate with her when she achieves her goals. I want to host slumber parties and go on family vacations. I want to see her graduate from high school. I want to watch her grow up. I want to grow old with my husband. I want us to go on an amazing trip for our 10th anniversary. I want more house projects, more family dinners, more movie nights, more inside jokes. I want more time.
The rate of recurrence for low-grade ovarian cancer is high. In January 2021, I met with Dr. Gershenson at MD Anderson, one of the world's leading experts on low-grade serous ovarian carcinoma. He told me the rate of recurrence is over 70%. But the median time until recurrence is 6.5 years. That means we could have many more years of powerful research before I see a recurrence. I'm holding on to the hope that there will be more treatment options for me and other low-grade women in the coming years so that if and when I experience a recurrence, I have more options.
Please consider supporting Cure Our Ovarian Cancer, which funds research for Dr. Gershenson and other low-grade specialists. You could very literally help save my life.